Hey guys, today i will be taking YoYoJoker's first release, the Double Joker, out for a review, having played with it for about 2 weeks, I guess it was time to give my verdict. First things first, this is NOT a new yoyo, it was released last May. I know this is a veryyyy late review, but better late than never
If you did not know, YoYoJoker is definitely not a new company. It is just not that popular compared to other japanese brands such as YYR and TP but YYJoker will definitely be up there with the big brands if given time. Established in early 2010 by 4-time world champion and former YYJam team member Daisuke Shimada. YYJoker debuted the Double joker, when the Double Joker hit the market, everyone was amazed by its simple yet elegant shape and gold leaf affixed side caps, but all of this came with a price, although not that costly as a YYR, it was still a good $20-$25 more than an average yoyo.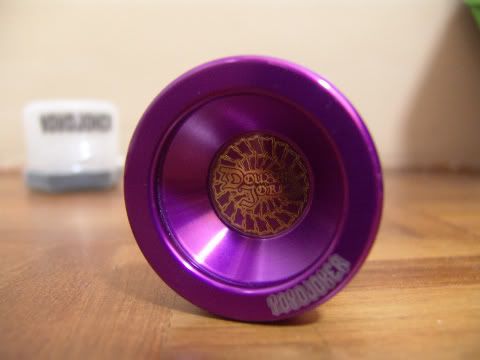 Specs
Weight (g) 63.3
Diameter (mm) 53.60
Width (mm) 40.04
Bearing: KonKave Bearing
Bearing Size: Size C (Large)
Response YoYoJoker Wide Type 50
Upon opening the package, i was greeted with YYJoker standard packaging--- an awkward screw like case with a piece of black sponge at the bottom. When I unscrewed the box, i was staring eye to eye with the purple Double Joker which was sitting snugly , just fitting into its home.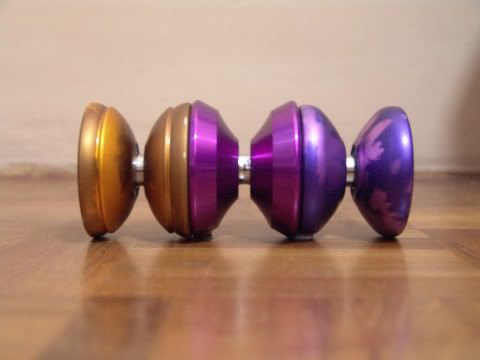 Galactic Goose, Double joker, Gnarhal
WoW. The purple on this yoyo is amazing!! It's just about it the middle of a purple messiah and a purple positron. But actually, this was not what the picture in the website, the one in the store showed about the same shade of purple but it was beadblasted (which very much resembled a BBed Messiah),the one i received was ano'ed.Heck, it still looked amazing!
The Double Joker has a unique shape. At first glance, one may mistake it for a YYR. But upon closer inspection, you can see that it is slightly bent inwards giving the catch zone a slightly concave shape and a super low wall. The Double joker has a gold affixed plastic side cap which definitely is from his roots in YYJam. To me, this is what makes the yoyo special and different from others.
The joker comes equiped with a slightly lubed Dif-e-Yo KonKave bearing, i gave it a quick wash and it was ready to roll!
This is quite a normal sized yoyo at 53mm but is a generally light throw coming in at 63g, but is it light on a throw.....the answer is NO. but this yoyo is definitely not dead weight. it plays like a 65g yoyo. THis yoyo is SOLID. It has a very special but yet familiar feel only what i can describe as
"As solid as a Gnarwhal;As fast as a Sleipnir"
actually, it does not have a 'need to play fast' feelin'. Instead, it can just play at normal speed but if you want it to speed up, your wish is its command, it can handle almost anything you throw at it.If you like horinzontal play, you will be amazed by how good the Double Joker can handle it. Just by looking at its shape, you can almost tell that horinzotals will not be a problem.
One downside is that the Double Joker DOES vibe, but it is only minimal, slightly less than CLYW vibe. In still feels dead smooth despite the hair of vibe, but i do like just a little tiny bit of vibe to tell me if the yoyo is still spinning, so this is not a big problem for me
On a bad throw, this beast is very forgiving.It corrects the wobble within a matter of seconds
The response was joker pads(type 50) right out of the box, it was amazing, tight binds while still retaining unresponsive play, i could even perform a Takahiro Lizuka bind with ease. But after about 3 days of play, things took a turn...... the binds became slippy but not that slippy, it could still bind but not as tight as when it came straight out of the box.
Although i am not a fan of KK bearings, i would say not putting one into this would be a crime as it makes the yoyo almost dead smooth despite the hair of vibe. Despite the recent dispute over this bearing, i still feel that a KK deserves to be in this yoyo because the advantages totally weigh out the disadvantages.
When it comes to grinds, i was actually surprised how well it could handle them! The Double Joker can easily pull off a finger or a arm grind. And having an IRG groove, means this monster can also handle thumb grinds. But.....if you try to palm grind, your efforts will be in vain because the rims are one of the least ano'ed parts of the yoyo, thats is why they immediately fly off your palm. Recently there was a thread about competition grade yoyos not having like eg. IRG groove, good ano etc,
i feel that it does not do justice to the Double Joker, being a new company at that time, YYJoker has really made a competition grade yet user-friendly yoyo.

Being a new company at that time, Daisuke Shimada has really made an impact on the entire community when he released this yoyo. solid throw, i strongly recommend this. With YYJoker releasing newer throws like the Strider and the Luminous, I can see why YYJoker is favorable among players. Well, I have come to the end of my review of the Double Joker, hope you liked it

UPADTE: NEW FLAW FOUND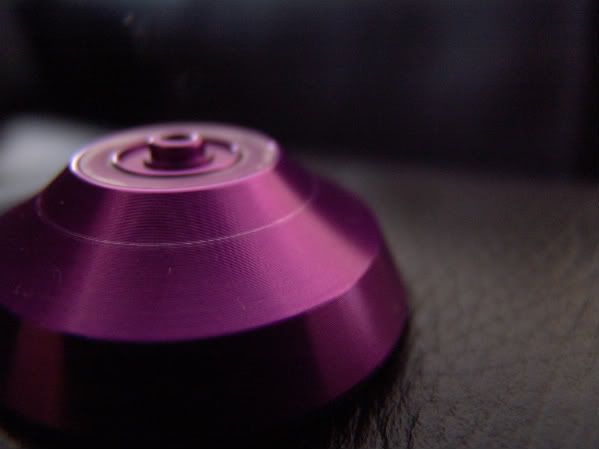 Permanent damage from finger nail
As you can see from the picture above, there is a substantial amount of PERMANENT damage of damage from my FINGERNAIL.I have to reinforce this before I start
I AM NOT HATING YYJOKER
. I was doing a finger grind, when the yoyo suddenly came into contact with my finger nail for a good 5 seconds, when I bind it back, i was shocked to find a few circular white lines on the yoyo. I immediately used my shirt to try and wipe the white stuff off. Fortunately, most of the white stuff was gone except the pictured one which is permanent. I knew it was from my finger because when I looked at it, I could see purple residue. I am definitely not blaming myself for this, just take a CLYW, do exactly the same thing, not even a scratch! I am not hating YYJoker, but I definitely think that a yoyo manufactured of such quality should have a ano that can re stand a finger nail OR dont put a finish on it---take YYR for example they leave most of their yoyos raw because ano on that type of aluminium will leave scratches and other imperfections. I really think that YYjoker should improve on their finishing if not all their effort on making a good yoyo has pretty much gone to waste.
BTW if any of you have encountered this on a YYJoker please reply in the comment section.
-Norman